Water Clock Osaka – Meeting Point

Water Clock Osaka
at JR Osaka Station South Gate Plaza
GUIDE
One of the most beautiful clock in the world.
Poplar meeting point in JR Osaka Station.
NOTE
Osaka Umeda Station is fourth busiest station in the world.  It may be complicated for foreigner. Leave the house or hotel with time to spare please.
Don't trust GPS nor map.app in Osaka. They are often showed wrong.
ADRESS
1 Chome-13 Umeda, Kita Ward, Osaka, 530-0001
530-0001 大阪府大阪市北区梅田1丁目13
MAP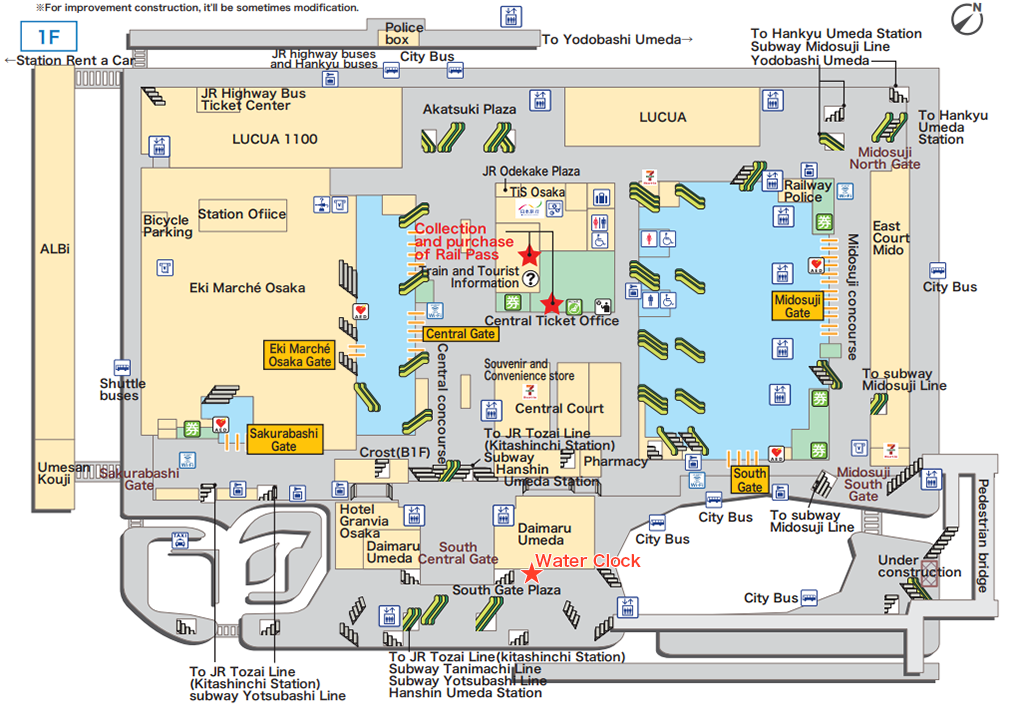 ACCESS
Go to JR Osaka Station South Gate Plaza
You will not miss this huge water clock.
HOURS
Open 7/24
WIFI
JR-WEST Free Wi-Fi
Tully's Coffee
Deli Cafe
Starbacks Coffee
Wired Cafe
…etc
SURVIVAL JAPANESE
水の時計はどこですか?
Mizu no Tokei wa Doko desuka?
(Where is Water Clock?)
ありがとうございます
Arigatou Gozaimasu.
(Thank you very match)
360 VR MOVIE
JR Osaka Station
You can see Water Clock at the end of this video.
LINKS
Osaka Station Water Clock is 12 of the world's most beautiful clocks by CNN.
12 of the the World's most beautiful clocks: CNN Official Website >
South Gate Plaza Osaka Station City Official Website >
JR Osaka Station English Map PDF Download > 
Osaka Station City Coupon Book PDF Download >